Dalyan is a small village on the banks of the Dalyan River in an area of outstanding natural beauty on Turkey's Mediterranean coast. It is surrounded by hills and untouched coastline which are unspoilt by mass tourism.
Boat trips from Dalyan Harbour take visitors through through beds of bulrushes to beautiful sandy beaches at the mouth of Dalyan River. The river delta is a conservation area with over 100 species of birds as well as Loggerhead Sea Turtles (Caretta Caretta).
Shopping - many shops in Dalyan are open from morning until late evening and market day is Saturday. The market is held in the town centre and stocks locally grown fruit and vegetables as well as clothing and gifts.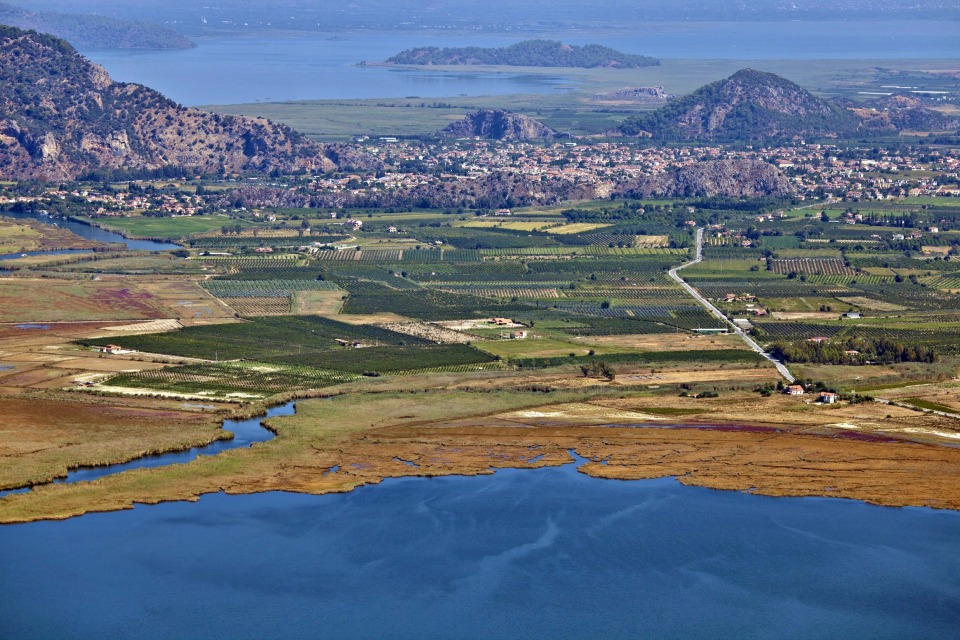 Lycian Tombs

The spectacular ancient rock tombs are the resting place of kings of the ancient city of Kaunos and date back to the 4th century BC.
They can be seen by taking a boat trip from Dalyan along the Dalyan River. You cannot climb up to the tombs and have to view their splendour from below.
At night the tombs are floodlit and make a spectacular sight.
The group of six rock-cut tombs, some of which have the facade of a temple, consist of a front chamber and a burial chamber that was accessed through a door. Burial chambers have carved stone benches for the bodies of the dead, and some had tables for offerings dedicated to them.
Treasure hunters have looted the tombs throughout history.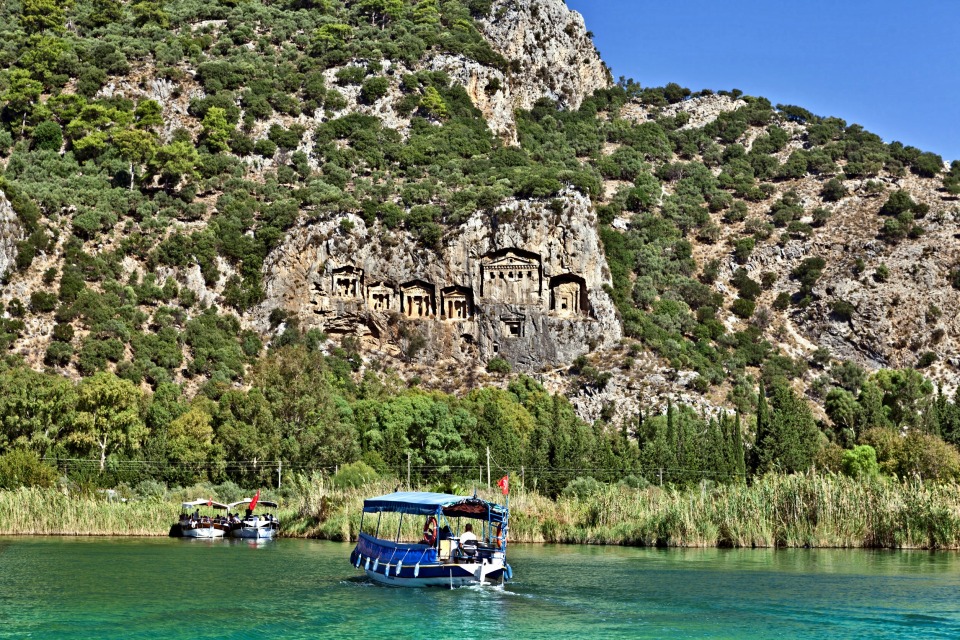 Kaunos Ancient City
Kaunos Ancient City is situated beside the Dalyan River, between Lake Köycegiz to the Mediterranean.  It was once a port but is now quite a distance from the sea due to silting of the Dalyan River delta.

The city lay on a peninsula with a 150m high acropolis hill and a 50m high acropolis with fortification walls. There are reconstructed and well preserved sections of the ruins including a Turkish bath and an impressive amphitheatre.

Kaunos was abandoned in the 15th century after a malaria epidemic.

There are spectacular views from the city which can be reached by on foot after crossing Dalyan River by rowing boat ferry. A small entrance charge is payable to visit the ruins.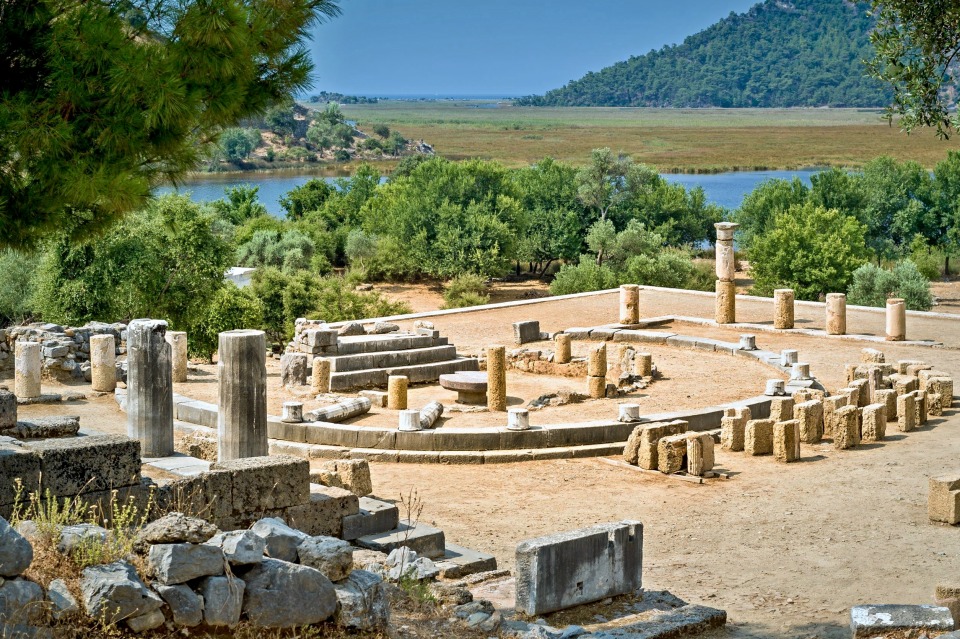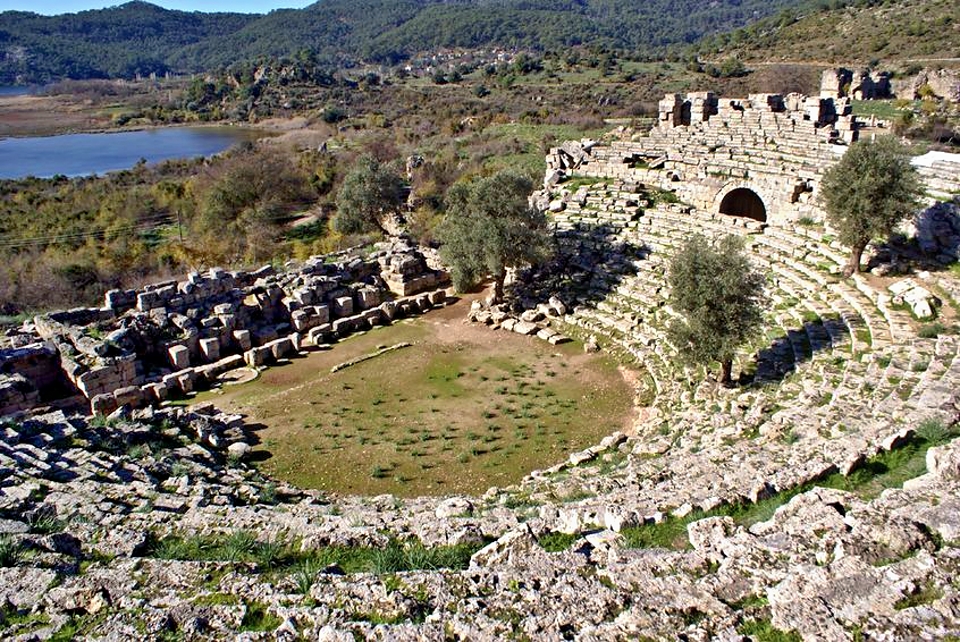 Iztuzu Beach
Iztuzu Beach is a beautiful 4.5 km long beach close to Dalyan, with fine white sands. It is ideal for sunbathing and swimming and the rarely gets overcrowded.

The beach forms a natural barrier between the fresh water of Dalyan River delta and the Mediterranean. It is a conservation area and nesting ground Loggerhead Turtles (Caretta caretta).

The beach is closed between 20.00 and 8:00 hours from May to October when the turtles lay their eggs and the newly hatched turtles make their way to sea.

In the marked nesting areas parasols, sunbeds and lying on beach towels is not allowed and speedboats are banned within a 1-mile zone of the beach and Dalyan River.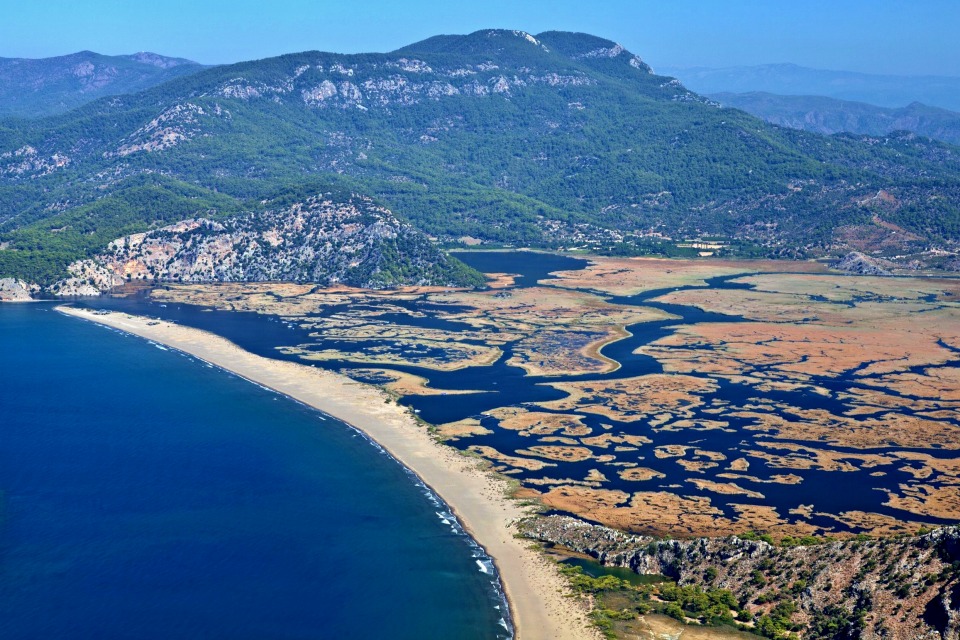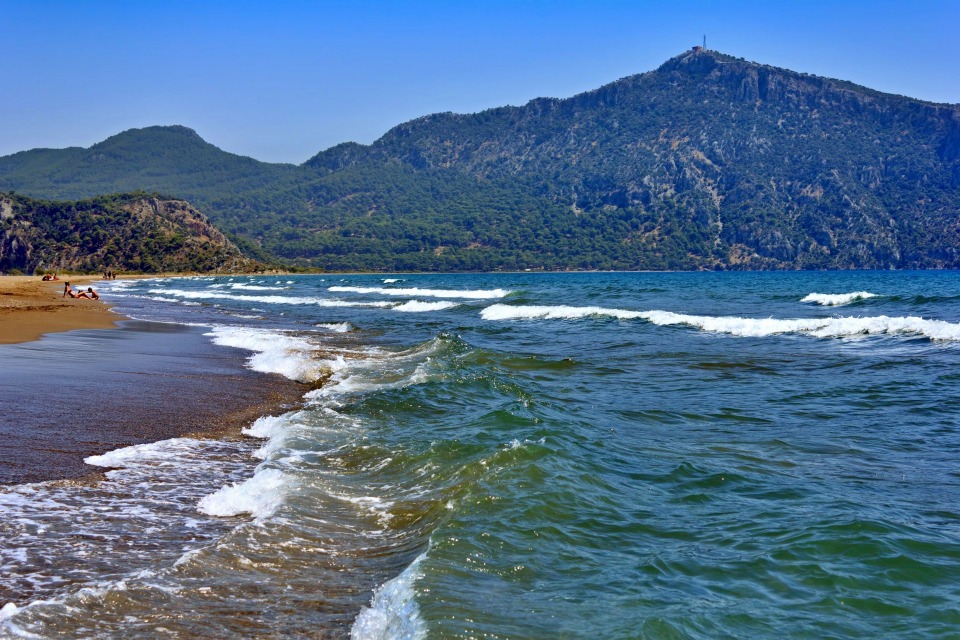 Loggerhead Sea Turtles
Loggerhead Sea Turtles (Caretta Caretta) are an endangered and protected species that has existed for about 45 million years.